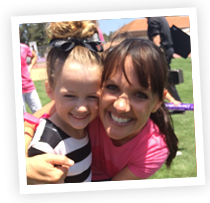 My name is Katie Parker and I founded Singers Company after a lifetime of experience as both a student and teacher of music and dance. While growing up in the small town of Merced, California, my mother, Kathy Callister, started a girls' performing group so my sisters and I could experience the joys of learning to sing, dance, and perform. She also had an older sister, Cheryl Fogg, who demonstrated this same opportunity for her daughters and their friends in Fresno, CA.
As a teenager, I was required to prepare for and fund the tuition portion of my future college education. Because of my interest and experience in music and dance and my reluctance to give up my vacation for a "summer job," my mother suggested I start my own performing group for little girls. I realized it could be the perfect way to earn extra money while remaining focused on my studies and other responsibilities. So I started Singer's Company in 1994 and have never stopped. Whatever city I have lived in, I have started and directed Singers Company.
Along the way, I gained knowledge and created tools that empower young girls and help strengthen their confidence through music and dance. I love these young girls and the energy for life they have. We sing, we dance, we laugh – they bring such joy to my life and our community. There is so much good that comes from these groups that I felt it was time to share it and make a difference in this world! I am married and have five children, two of which are girls that participate in my own Singers Company.
Find a class for your daughter!