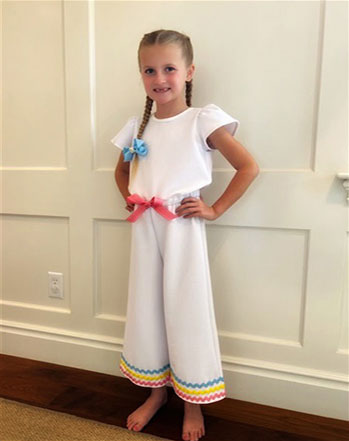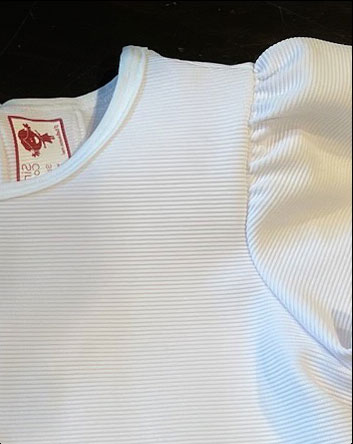 Costume
Our costume for our All About Summer show is a crisp white cropped romper with flutter sleeves and darling sunshine-y ric rac accents. The fabric has a subtle stripe texture and a slight stretch. There is a button closure in back at the neck. The accessories will be two coordinating blue bows and fun yellow sunglasses.
---
Sizing
Regular Sizes are available in:
3, 4, 5, 6, 6x, 7, 8, 10, 12, 14, 16, 18, 20, 22
Plus Sizes are available in:
10 Plus, 12 Plus, 14 Plus, 16 Plus, 18 Plus, 20 Plus, 22 Plus
Please see Sizing Chart at the bottom of the page for more guidance, click here.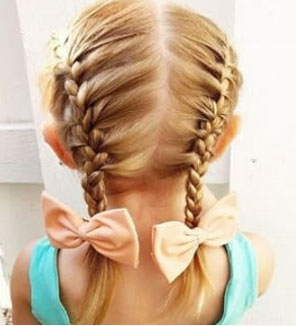 Hairstyle
Hair should be worn in two french braids or regular braids. The two bows will be placed at the ends of the braids at the elastic. (Bow will differ from what is pictured here). If a girl's hair is too short to braid, pull back her hair on both sides and attach the bows towards the back of the ear.
---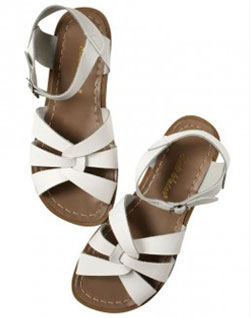 Shoes
Parents are responsible for providing their daughter's shoes. The shoes for this season will be flat white sandals (should have strap and no heel).
---
Ready to purchase your costume?
To order your costume click below to be
redirected to the Singers Company store
Order costume
Payment Information
Payment Deadline

The deadline for costume payments is Friday, March 17th. A costume may not be ordered for your daughter if not paid by this date.

Restocking Fees

There will be a $5 restocking fee per item exchanged (limited to stock on hand) as well as a possible shipping fee not to exceed $10.
Sizing Information
Singers Company clothing follows U.S. Standard sizing which ends up running a little smaller than most mainstream manufacturers. Every costume style is different. Some are more flowing and some are meant to be more fitted. We use different designs each season: dresses with tights, tunics with leggings, tops and pants etc. These measurements are to act as a GUIDE. These costumes ARE NOT CUSTOM made for each girl. So there will be give/take on chest and length for each individual body. Some girls are shorter, wider, taller, thinner etc. By providing a chart, we ask you to follow the guidelines below and do the best you can
SIZING RECOMMENDATIONS
IF YOUR DAUGHTER TYPICALLY WEARS:
RECOMMENDATION:
Size 3, 4 or 5
Order up one size
Size 6
Order size 6x
Size 6x
Order size 7
Size 7 or 8
Order typical size
Size 7 or 8 (and is tall or has thicker middle)
Order up one size
Size 10, 12, 14, 16, 18, 20 or 22
Order typical size
Size 10, 12, 14, 16, 18, 20 or 22 (and is tall)
Order up one regular size
Size 10, 12, 14, 16, 18, 20 or 22 (and has thicker middle)
Order plus option for typical size
TSHIRT SIZING
Typical Size
T-Shirt Size
3
Child XS
4
Child XS
5
Child XS
6
Child S
6x
Child S
7
Child M
8
Child M
10*
Child L (Plus - Child XL)
12*
Child L (Plus - Adult M)
14*
Child XL (Plus - Adult L)
16*
Child XL (Plus - Adult XL)
18*
Adult M (Plus - Adult XL)
20*
Adult L (Plus - Adult XXL)
22*
Adult XL (Plus - Adult XXL)
Also Available
Adult Boxy L
Also Available
Adult Boxy XL
Also Available
Adult Boxy XXL
Our tshirts are a fitted style and run slightly small. Order up a size if your daughter is tall, has a thicker middle, or just prefers her tshirts looser.
Have you seen our merchandise?!?